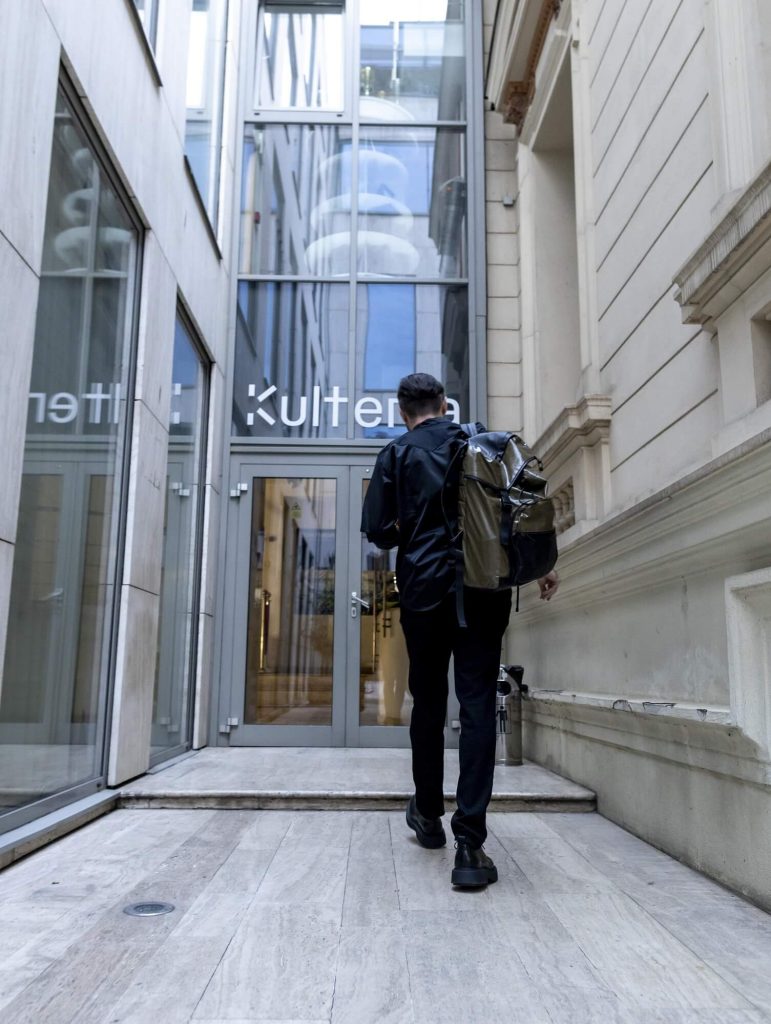 Obie Platon, the first artist presented at Kulterra Gallery at the official opening of the Gallery. Next to the exhibition it can be heard the sound instalation "Pe unde dincolo și aici" (70 min), by Daniel Gaciu.
Obie Platon (Ovidiu Mihai Platon), b. 1987, Iași, is originally known as muralist and as street artist. In Romania, this doesn't mean that much. For many, it actually has a bad connotation, considering the reputation and status of street art. Invasive by default, unpredictable and bound to a certain narcissism, street art means the unilateral appropriation of a surface (be it subway or tram wagons, fences and walls of private mansions or public institutions) by the usually anonymous or undercover artist.
Yet, this type of art also comes also with a backlash: the street in its turn confiscates the artist, assimilates and reclaims the artist, imposing a certain rhythm, set of techniques and discourse. The moment the artist illicitly "contaminated" a surface – since it is done so beyond any previous convention or contract – the surface will also leave its mark on the artist and on the way the artist operates and creates. And, most significantly, the surface will never stay faithful to the artist. The illegally realized murals are not protected – on the contrary, they will always be under the risk of being covered by other works of other artists or even removed by authorities or owners.
Obie Platon is one of those artists who tried – and succeeded – to escape this cycle. Not only that he refused the fame cast only by the mystery of anonymity, not only that he started making mural painting in a relation of mutual agreement with authorities or owners but also stylistically he started treating surfaces as canvases.
Thusly, oddly enough, the underground artists, the once nocturnal vandal turned into a diurnal, visible, assumed and overt artist. He is stated and he makes statements. Because his works – regardless of their exposure – are still nocturnal and subversive, illicit and offensive. His works infuriated the Church as well as the Chinese communist authorities, they entranced some and irritated others.
Highly visual, almost overwhelmingly so, Obie Platon is essentially an iconoclast! The religious, political, Masonic, ideological symbols and figures are explicitly presented in his works only to be stripped and deconstructed. Exposed. As on his murals so on his canvases that he seems to approach as walls: a conspiracy theorist exposing conspiracies!
At Kulterra, in the Connect/Disconnect exhibition, Obie Platon proposes to us a number of paintings, each of them containing a fragment from a puzzle in which the artist spoon-feeds us the future, piece by piece. Our future. He kindly reminds us that it is up to us to change its direction.
Let's listen to his speech:
"A new story asking to be told. A contemporary story about fears and anxieties, about construction and destruction, about reality and illusion, and, most importantly, about yourself. I had no inkling that "Prime Time" (work from 2019, presented in the eponymous solo show from 2020) was just the beginning of an entire narrative so that, at that time, the goal was to announce a great global recession and, at the same time, to make people open not only their eyes but also their hearts to see and feel this recession coming.
Yet, the new series is no longer only about the present, it also aims towards the future, towards the painstaking effort of untimely updating an entire society that is not yet ready for it. It's more than obvious that evolution – as change – waits for no one to get ready. The series of images some sort of algorithm will convince you to behold describes a phase of an ongoing process. It is the moment to decide what stays and what is left in the past, in terms of values, structures, dogmas, ideologies and whatever necessary in defining the new era we are about to enter. Both at a rational and an emotional level, this process of transformation pervades everything – from individual to society." (Obie Platon)
30th September 2021, 7 P.M.
Kulterra Gallery, str. Știrbei Vodă 104 – 106, sector 1, Bucharest.