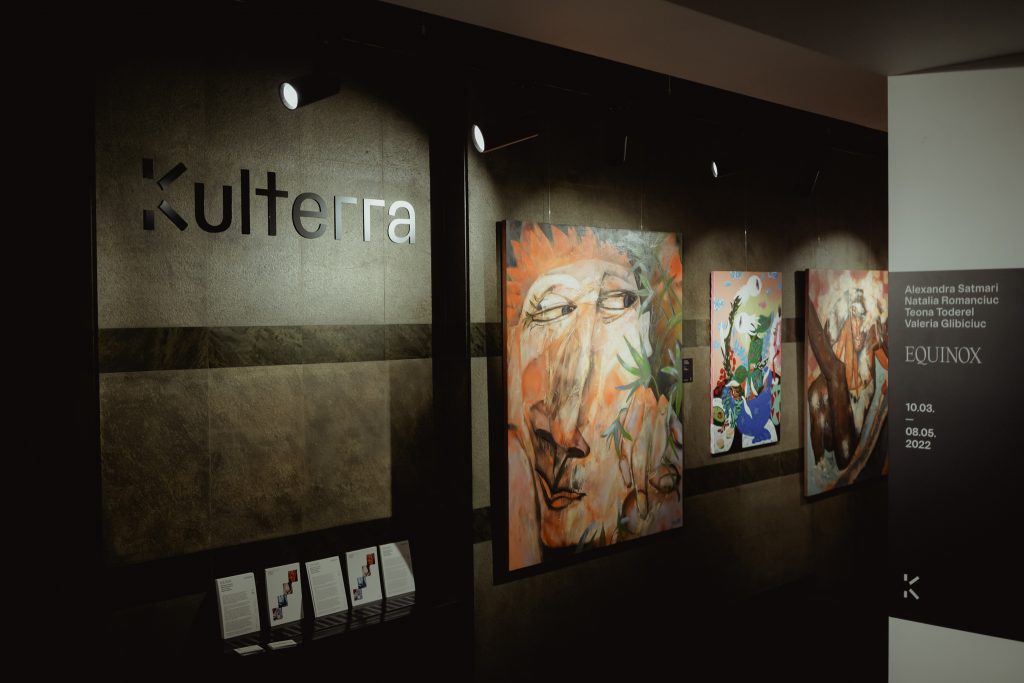 "EQUINOX" is the third exhibition held at and by Kulterra Gallery, in the space at Stirbei Voda 104-106, after "Obie Platon.Connect/Disconnect" and "Elena Bria.New Academia", but it is the first group show; while in the first two cases there were solo shows (Obie Platon, respectively Elena Bria), this time we are talking about the presentation of works (painting, sculpture and ceramics) made by four artists from Romania and the Republic of Moldova: Valeria Glibiciuc (painting), Natalia Romaniuc (painting and ceramics), Alexandra Satmari (sculpture) and Teona Toderel (painting).
Opened on March 10th, just ten days before the start of the astronomical spring, Equinox introduces the idea of regaining balance. At a time when everything seems to be slipping into extremes, balance becomes a necessity.
4 artists, with different visions and techniques will be associated under a single curatorial speech, which celebrates spring in a feminine tone, in a month dedicated to women! In Greek myths, the spring equinox was the day when Persephone, married against her will to Hades, received the right to return to the world from the abyss of hell. It was the moment when all of nature recovered from the sad lethargy of the winter. Goddess of darkness and hell in the fall and winter, Persephone became the goddess of fertility and nature again in the spring and summer. The myth thus encodes the natural, astronomical cycle into a narrative in the center of which is the feminine character.
The exhibition "Equinox" will foreshadow (ten days earlier) the moment of the astronomical debut of this year's spring, presenting a collective female "character", but also our need, of all of us, of balance and nature.
About the artists:
Valeria GLIBICIUC (b. 2002, Baimaclia, Republic of Moldova). She has been painting since childhood, influenced by her father, a church painter. Although detached from the religious discourse, in search of her own questions and answers, Valeria Glibiciuc's line preserves something of the aesthetics of sacred painting, but without being captivated by its message. On the contrary, a secular universe, alive but dramatically painted, is released extremely strongly, precisely because of the contrast between the message of the works and their aesthetics.
In the works of Valeria Glibiciuc it sometimes seems that the saints painted on the walls of the churches escaped from the places of worship in order to return (profane) to the world and to live a life that they did not have before; and the abstract that the artist seems to be looking for, is stubborn to express itself as an extremely powerful figurative. Her works have been sold in private collections in several countries, one of them being selected in the top 95 by the curators of the "Saatchi Gallery"; another work has been selected for display at the "Hasting Contemporary Gallery" in the United Kingdom. She opened the "Communications" collection, presented at Artcor Center in Chisinau, Republic of Moldova.
Natalia ROMANCIUC (b. 1996, Chisinau, Republic of Moldova). She graduated from the Academy of Fine Arts in Chisinau (2016-2019).
She had over ten exhibitions in Chisinau, one in Bucharest (in 2018), online exhibitions in Switzerland and New York (during the pandemic, 2020/2021). Her works are in private collections in the USA, Russia, Romania, Moldova, Switzerland, Italy, Great Britain, Spain, China, Australia and Austria.
In her works, shape and color are attacked and treated with passion, it is not clear whether the line prevails over color or vice versa. Introspective, but not introverted, solar, but realistic, figurative, but expressionist, Natalia Romanciuc's art is a narrative about her own life, a sum of playfully descriptive key quotes.
Alexandra-Daniela SATMARI (b. 1997, Arad, Romania). She graduated in Visual Arts (sculpture) at the Faculty of Art and Design, West University, Timisoara (June 2019), and with a master's and doctorate from the same University. Alexandra Daniela Satmari had a solo show in Bucharest (2020) and participated in group shows (Timişoara, Arad, Bucharest).
Daniela Satmari's works seem to stop frames of a dynamic in continuous development. The materials used (galvanized sheet, artificial fur, steel sheet, clay, etc.) are subjected to the same "verification" process, the results (always different, but marked by the artist's style) inviting contemplation. Between decorative and abstract, Daniela Satmari's works (whether we're talking about "Creatures", "Memories" or others) have the property of simultaneously suggesting hardness and softness (or gentleness!), organic and mineral, real and abstract, masculine and feminine.
Teona TODEREL (b.1922 in Alba-Iulia, Romania), She finished the Art High School from Târgu-Mureș, with the specialization in painting (2011), she studied at the University of Art and Design, Cluj – Napoca (2011 – 2014), during which time she studied with an Erasmus scholarship at Dokuz Eylül Üniveristesi Güzel Sanatlar Fakültesi, Buca / Izmir, Turkey (2013-2014). Afterwards, she did a master's degree at the University of Art and Design, Cluj – Napoca; painting specialization (2017- 2018). Since 2019 she is a student of the UAT faculty, section "scenography and artistic event", third year.
She had exhibitions in Izmir (Turkey), in Cluj-Napoca and Târgu-Mureș.
In her paintings the exact, realistic shapes and lines are "boycotted" even by a great inclination to detail: by windows damp from raindrops, painted by Teona Toderel, reality "softens", loses its clarity to gain in mystery, it loses its strength only to become more interesting. Details are still there, only they took refuge (and reflected, even deformed) in huge splashes, magnifying glasses through which we look "out", but a look enriched even by the game of reflections.
Four artists, four different techniques, methods and approaches. Like in a garden, we could say; one in which spring opens right from the first day with an explosion of colors and shapes.
And maybe that's why we're also going to open the Kulterra Art Store in its own Equinox, the store where artists will find a showcase tailored to their art, and customers will discover their favorite artist.
Thursday, March 10th, between 19:00 and 22:00
Kulterra Gallery, str. Știrbei Vodă 104 – 106, sector 1, Bucharest.