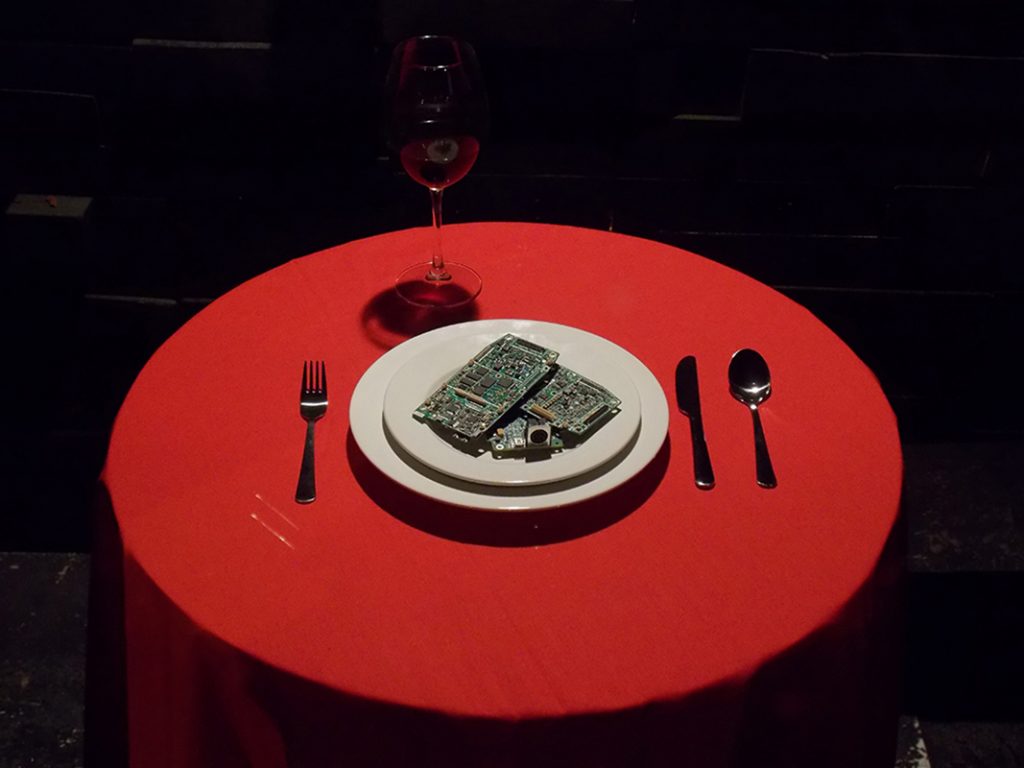 ATOMA descends from the heel into the exhibition hall with an ambitious solo show: artistic, immersive, with a message and with a wealth of information, sources and meanings, which she organizes in a triptych. Through this, she attempts to dominate and organize the external chaos and to tame it in the form of a cautionary tale, which still remains to be deciphered and understood by the audience, on the spot. The themes are ones she has been interested in for some time and which she researches and explores visually: what we consume in the information onslaught and how it changes us.
The artist forces us to ask ourselves what are the consequences of the things and ideas that we take for granted, for lack of time, without effort, out of comfort, for convenience or because of addiction. Then he shows us who are the guests at this banquet; a different generational war is painted in the exaggerated portraits of the aesthetically augmented elderly in their effort to ward off death and the ugly, even at the often unperceived risk of falling into the ridiculous, and of the robotic, digitized, programmed youth – two different ways of conforming to the norm ignoring such obvious consequences to the viewer. Last but not least, ATOMA summons a possible physical presence, which materializes in the form of oversized lips, behind which lies digitization, as a metonymy for social media and consumer society, with all the shortcomings that they entail, including the lack of responsibility, the superficiality, the slips that transform us and bring us to this point. Euphoric Alienation is not a conclusion – euphoric alienation has something oxymoronic, contradictory – but it is rather a finding of a current state, probably already classified, but rendered by the artist and thus again put into discussion in society.
Artist bio:
ATOMA studied painting at UNARTE, Bucharest and mural art at the Faculty of Decorative Arts, Bucharest. She had 7 personal exhibitions in Bucharest and participated in 20 group exhibitions (Bucharest, Timioara, Constana and Braov). Her murals can be seen in Bucharest, Târgu Jiu, Bacau, Sibiu, Satu Mare, Galai and Petrosani.
Thursday, October 13th, 7:00 p.m.
Kulterra Gallery, str. Știrbei Vodă 104 – 106, sector 1, Bucharest.