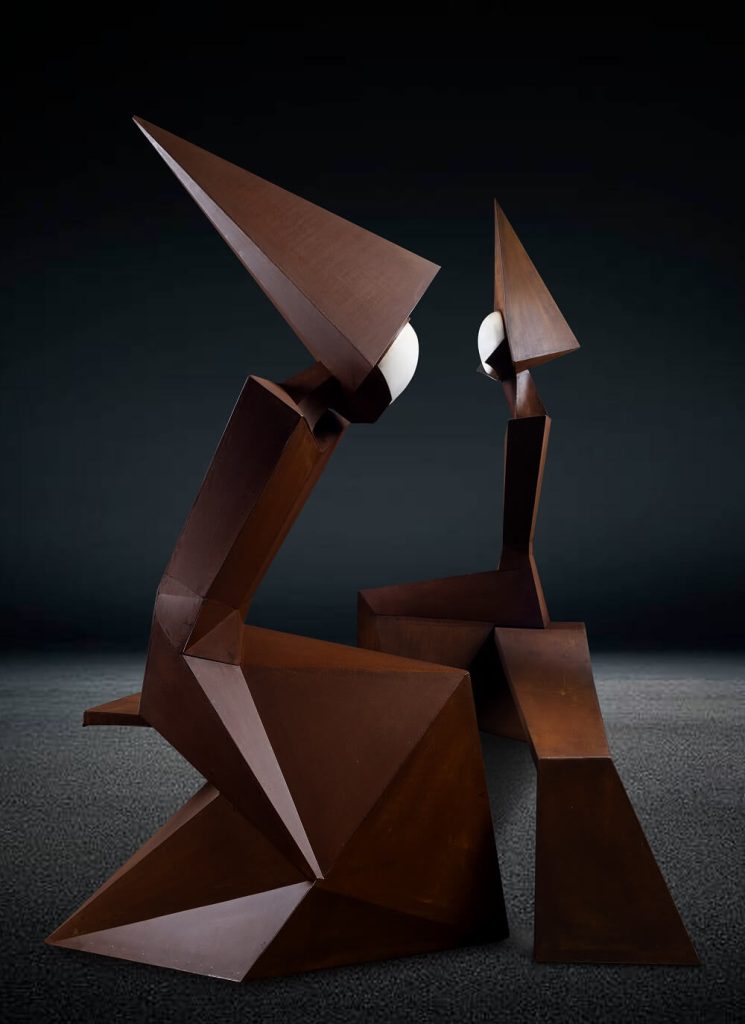 If the typical audience is puzzled by the lack of clues when looking at contemporary art, Obie Platon dazzles the viewer with too many. His works are like a visual feast where if you don't observe closely, you could find yourself choked with too many characters performing too many actions simultaneously.
Don't worry because he's a trickster. He will do you no harm if you give yourself time to absorb all the layers and the stories he skillfully crafted in his works. If he had lived in the era of Cennino Cennini (Renaissance painter and teacher) he would have been harshly punished. A free-roaming imagination like Obie's could give you lots of trouble. In his well-known Trattato della pittura, Cennini encourages his pupils to use "fantasia – a combination of imagination (…) and skill in the hand, to discover unseen things concealed beneath the obscurity of natural objects."  But there's also a contraindication to this good medicine: if you search for many ways, you can become fantastichetto. Fantasia is the right measure to explore nature and your own mind, fantastichetto is the corrupted way of being yourself too much.
We have to understand that artists were competing with God in those days, but they were more careful not to be so obvious.
Obie Platon lives with his mind in the current contemporary era, his soul fixed in a romantic past, as depicted in old churches and museums. The trickster part in his artistic persona – his eyes, knows how to make an active switch between the two of them: mind and soul. And how to lure you into a game of symbols and stories, a complicated mix of old and new. His art is connected in a very specific way with his ancestor's fellow artists. He even has the skills of painting murals and canvases. Frescoes and panels – what they were painting back then.
In his second solo show at Kulterra Gallery, Obie Platon explores the highs and lows of modern life: how can we live with anxiety, one of the century's diseases? How can we stand each other being so narcissistic? Is there a safe place where we can hide from ourselves?  He and Misha Diaconu, the guest artist of the exhibition, are trying to find meaning and understanding, and see the world through different lenses.
Inner Self- Misha Diaconu, guest artist
In her first intervention in Kulterra Gallery's space, Misha Diaconu exhibits a series of large-scale works in which she plays with the plasticity and oxidized color of the metal as if it were a much more docile and easy-to-shape material. Her sculptures express female sensitivity and introspection without using gender clichés. Her lonely characters, mirroring each other, face to face, speak of meditation and reflection and how a couple interacts, most often changing roles and positions, not necessarily in a deliberate and conscious way.
Inner Self series captures the encounter with the self and self-analysis of the ego from an intimate position. Starting from a reflection on femininity represented by a character sitting alone on a bench, the idea took on a new dynamic and shape; the work is soon completed by a male partner, who mirrors and completes it. It is about the essentialized image of a couple, fixed in a permanent form.
The approach to the aesthetics of constructivist forms, the omission of facial features, and the essentialization of bodies is connecting the artist to a European vocabulary, but is still too little explored in sculpture. Surprisingly, a connection is made with the dancers and costumes of the 1930s. This theme of dance and the desire to give movement and elongation to the silhouettes is also felt in previous projects – Countesses or I feel you in the bridge of my palm. Part of the attitudes that the silhouettes of her works borrow are inspired by the choreographies of Pina Bausch, the legend of German dance.
We can easily imagine that the woman sitting on the bench takes a small break between two movements, during which her partner looks at her thoughtfully. The interaction between the two of them is not inert and bland. She could be a Lizica Codreanu who just danced in Brancusi's studio, among his works, with an avant-garde costume, which the sculptor thought up, especially for her kinetic performance. Misha Diaconu captures the internal combustions that happen between two people, male and female after they look at and contaminate each other.
Texts written by Ioana Marinescu
Thursday, December 15th, 7:00 p.m.
Kulterra Gallery, str. Știrbei Vodă 104 – 106, sector 1, Bucharest.