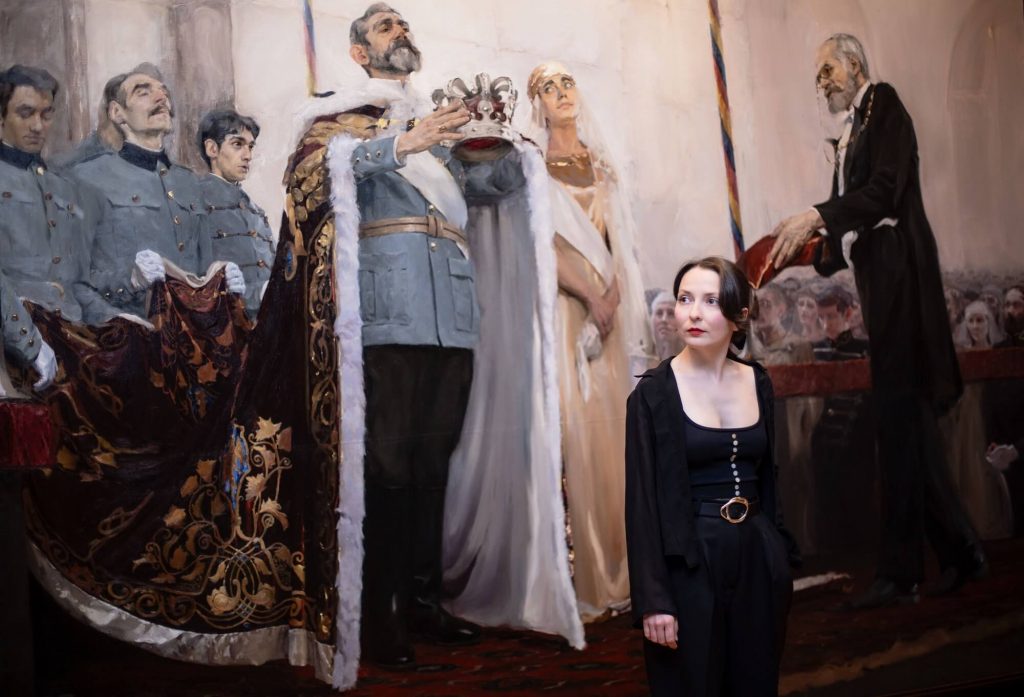 "Contemporary art" can be an inhibiting notion. Contemporary art has used the mask of sophisticated and complicated terminologies, which one can understand only guided by a "specialist" who would "translate" it for us. In short, for many, contemporary art is distant, individualistic, deceiving, perhaps making no sense at all since its sense is concealed.
From this point of view, Elena Bria comes as a shock! A pleasant shock, though. It is clear she's a contemporary artist. Born in 1992, in Chișinău, Elena Bria graduated from "Igor Vieru" fine arts high school from Chișinău in 2011 and from "Ilya Repin" Imperial Academy of Fine Arts from Saint Petersburg, where she studied between 2012 and 2018. She had solo shows in Chișinău, Bucharest and took part in group shows from U.S.A., Russia, Great Britain and Italy.
So, she's an artist of nowadays. Still, watching her works makes us wonder: it this contemporary art that we are looking at? Elena Bria seems to belong to the past. Her style, strongly influenced by the Saint Petersburg school, lingers boldly, as if in defiance, in long abandoned patterns. Elena Bria doesn't believe in ambiguous representations. She doesn't "leave us" alone in front of her works. She doesn't dare us to have or invent emotions and meanings we can't bear or test.
Elena Bria is clear, explicit, coherent. Her topics and technique absolve us of the effort of inventing in our minds shapes, colors or meanings. They are all there, in every work, and await us and give us a familiar and peaceful welcome. She makes the question "what did the artist want to say?" useless. The onlooker knows exactly what Elena Bria wanted to say because the artist doesn't leave any doubt. Her portraits are vivid, present, they accompany us while watching them. The objects from her still lives stir us towards meditation. Freed of the anguish of confusion, the onlooker is invited to fluidly contemplate. To discover details and to converse. Elena Bria doesn't leave her audience on its own, she escorts her audience in each and every work of hers. And the onlooker no longer needs a specialized guide, since the painting of Elena Bria herself leads the onlooker through her stories. The connoisseur of course will notice technical details, perspectives, proportions, colors, brush strokes, the way the canvas is approached, and so on. Yet, the story, the topic as such, will talk both to the neophyte and to the one trained in reading art.
And yet, is this contemporary art? Elena Bria would say: it is ART! The expression "contemporary art" doesn't suggest anything specific, really. This is why it may encompass thousands of styles and approaches. In this seemingly chaotic frame, Elena Bria opted for order. She looks for innovation inside the classical canon, not in its negation. She retrieves and refines topics that others would regard as obsolete. Her originality doesn't consist in inventing concepts or techniques, but in the current, contemporary, way in which she populates old themes and methods.
The first artist from Bessarabia accepted at "Ilya Repin" Imperial Academy of Fine Arts from Saint Petersburg in the last 20 years, Elena Bria presented in 2018 her graduation work – a monumental painting in topic and size: The Coronation of King Ferdinand. It was the year of the Centennial and Elena Bria, in the former capital of the Tsarist Empire, presented the Coronation of the King of Romania. At Kulterra Gallery, the work will be presented alongside documents and materials from the year of the Coronation, for which we thank the Auction House Historic.
Is this a contemporary work of art? Some would say it is only academism. It is very contemporary, we would say. Not only because it is such a recent work but because, in its current expressions, contemporary art gets further away from its own definitions and doctrines. In the end, it is all the same.
Thursday, 9th December, from 16:00 – 21:00
Kulterra Gallery, str. Știrbei Vodă 104 – 106, sector 1, Bucharest.