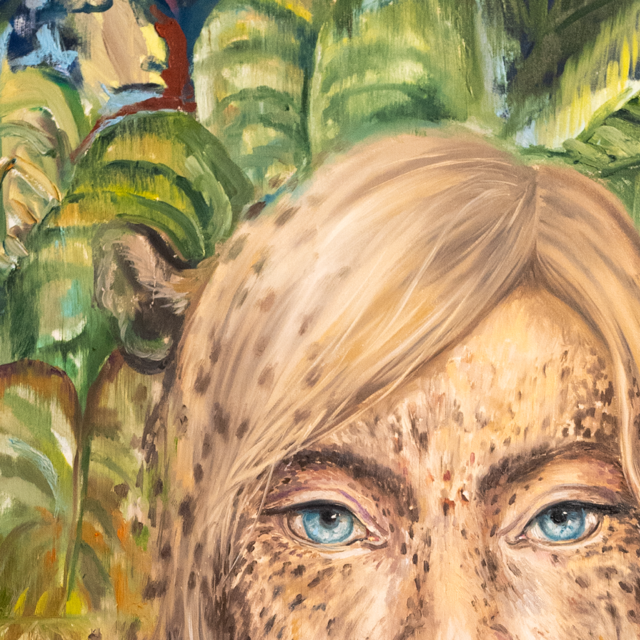 " In her first solo exhibition at Kulterra Gallery, Arina Bican focuses her attention on complex themes that reflect the world and society in which we live. The artist takes Charles Darwin's Origin of Species (1859) as her point of departure – which she interprets in a symbolic key, with the help of Ovid's Metamorphoses. The famous theory according to which man descends from the ape is a course in which the animal becomes human under the power of natural selection. Greek mythology presents us with the opposite, a context in which the human deteriorates so deeply through social interactions that he reverts to a raw, primitive form.
Arina Bican observes the subtleties of the two cultural poles and imagines this unfolding of forces in a contemporary and urban universe, where women transform like in Ovid's Metamorphoses and contrary to Darwin, from human to animal. The artist wants to make us aware through these visual metaphors that transgressions have always been there. That evolution (at least in the Darwinian tradition) has never erased our primal instincts and desires.
The exhibition Social Metamorphosis starts from the myth of Medusa who decays from her own humanity, as a punishment for facing the gods. Its pride – its particularly beautiful hair is transformed into snakes. Whoever dares to look at this decayed beauty turns into stone. Arina imagines a contemporary Medusa, alongside her two sisters. It gazes contemplatively and lightly blasé from the canvas, as in a fashion pictorial. Nothing in her posture suggests her tumultuous depictions in art history. Only the lush hair, the double measure of femininity, and the punishment she receives from the goddess Athena puts us on guard against the aggression she possesses and could use.
The characters of her works are women who exude strength and fragility at the same time. The viewer chooses to see the beauty of Arina Bican's characters, the interiors decorated with exotic plants, or to understand the animality and instincts, chameleonically camouflaged. In reality, they are right under our noses, hidden in plain sight, under a much thinner layer than we are comfortable to acknowledge."
Curatorial text by Ioana Marinescu
Thursday, February 02nd, 7:00 p.m.
Kulterra Gallery, str. Știrbei Vodă 104 – 106, sector 1, Bucharest.