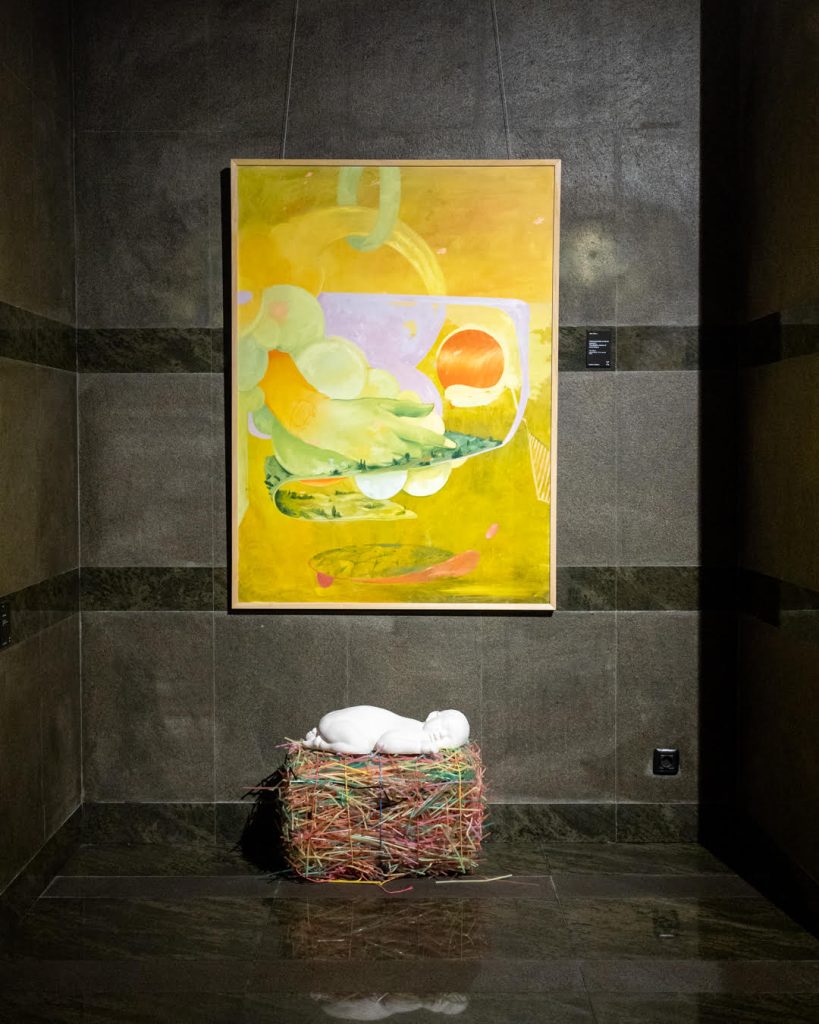 Objects, shapes, people, jukeboxes made up of a multitude of elements appear in a surrealistic way on backgrounds that are sometimes pearly in light colors. Without being episodic, Alex Baciu's paintings tell intersecting stories about nature, about the way man feels time in his daily run, about his identity in an era of globalization in which the means of communication – emoticons – pervert rather than transmit univocal messages and emotions. All this is transmitted through a visual language of its own, which contains elements recognizable to the viewer, such as traffic signs, Fabergé eggs or the infinity loop caught in the Möbius strip or Brâncuși's column.
The contrast between the natural world and the man-made world, where objects are produced and loaded with meaning, is made visible, letting the warning to the behavior and care we do (not) give nature shine through. Traffic signs lose their clarity and outline and fade into the background. The contemporary man seems to be caught in a whirlwind of increasingly accelerated events and without an intrinsic order, which rob him of his moments of STOP, no matter how urgent and imperious his meaning may have been in the beginning.
MihU's works contrast the responsibility towards nature that the paintings ask us to assume and complement it with a playful perspective, born in childhood both through the child as their subject and through the playful way of (re)presenting him. Finding themselves in an immature surrealism, the sculptures reproduce the imaginary of childhood, a world felt as full of magic, joy and fascination with the surrounding reality.
The way in which adults slice reality is still foreign to children, which gives them a freedom to interpret it, a fact visible in the way objects gain new possibilities of existence: the mattress does not have its usual surface, but is composed of colored straws from plastic, and the dandelion made of plastic and metal. Thus, an ambiguity is created in the relationship between the works of art and the toys themselves, which enhances the imagination of children, prone to mix them up, playing with the cataloging imposed by adults.
Thursday, November 17th, 7:00 p.m.
Kulterra Gallery, str. Știrbei Vodă 104 – 106, sector 1, Bucharest.