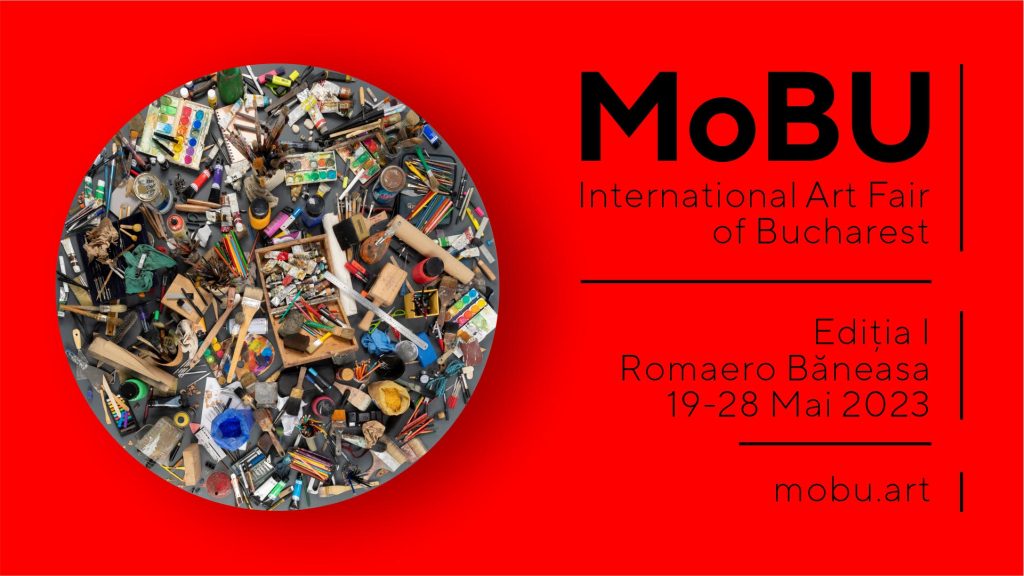 #MoBU2023 – MoBU International Art Fair of Bucharest is the newest contemporary art platform in Central and Eastern Europe that brings together galleries, artist run spaces, groups of independent artists and emerging artists. The event comes as a firm response to the growing art market, puts Bucharest on the international map of art markets, and answers to the expectations of a new, informed public, interested in all mainstream aspects of contemporary art and its surroundings.
Save the date! It is 19-28 May 2023, at Romaero Baneasa, you have a meeting with MoBU. The organizers have prepared a complex, multi-functional, 22,000 square meter indoor and outdoor exhibition pavilion. The utmost latest-trends-in-design event framework is conceived by the experts who provide the context for the most prestigious events of the industry. MoBU will be a form and content experience for the senses. With a program that includes all the activities specific to art fairs, including cultural accompaniment and mediation, guided tours, concerts, video screenings, immersive experiences, performances and happenings, collaborations with galleries from Romania and the international scene and with cultural institutions of repute, MoBU brings you a diverse cultural offer, original and one that is specific to Central and Eastern Europe.
The guest artist, a master to whom MoBU dedicates its focused attention: the personal retrospective exhibition, will surprise the public with his vast artistic concerns, the wealth of ideas and the artistic-philosophical themes to which he has dedicated his life: of Romanian-Swiss origin, a refugee from the horrors of the Second World War in his childhood to Switzerland with his mother and brothers, became a first-dancer on the stage of the Bern State Opera, staged Ionesco and Picasso, signed the New Realism manifesto, entertained with Duchamp and Man Ray, associated with the Fluxus movement, he is the inventor of the snare pictures and Eat Art – a prominent and very well-known artist worldwide who meets the Romanian public intimately and thoroughly only now, in his ninth decade: Daniel Spoerri.
Kulterra Gallery, str. Știrbei Vodă 104 – 106, sector 1, Bucharest.